Call us to schedule air conditioning services today!
There are a lot of benefits of having quality air conditioning running throughout your commercial facility. Before the advent of air conditioning systems, heat and humidity were common issues indoors. It wasn't until 1914 that air conditioning systems were first introduced to buildings, and we've come a long way since then. With that in mind, the best way to stay up to date on the latest technological advancements and efficiency for your air conditioning system is to have an experienced professional take care of any AC work that you might need done.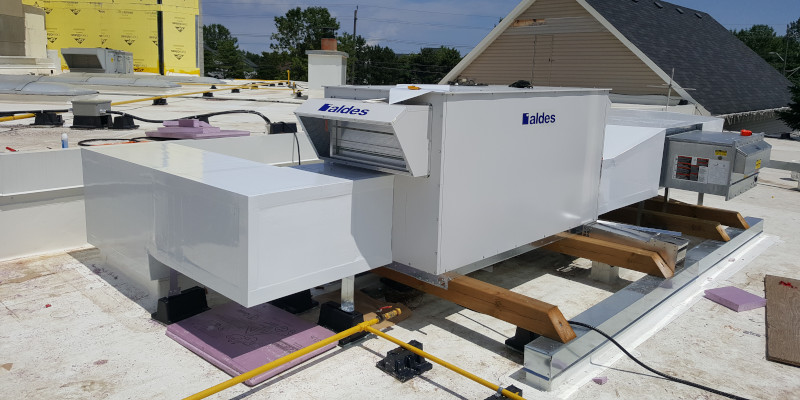 An air conditioning system works by removing the heat and moisture that currently occupy a space. The warm air is turned into cool air, and the moisture removal helps lower the amount of mold and pollen in the air.
When your commercial facility in the Newmarket, Ontario area utilizes an air conditioning system, you're required to have your air conditioning system regularly inspected and serviced. Part of the work done by air conditioning systems is through recirculating the air indoors. If your air conditioning system has undetected leaks, electrical problems, damaged parts, or frozen coils, you could potentially face health problems and higher electric bills.
You can avoid future problems, maintain your building's comfortable atmosphere, and prevent overheated electrical parts by keeping a regular routine of professional maintenance. Here at Aircon Mechanical Systems Inc., we can handle any repairs, installations, maintenance, and replacements that you might need for your air conditioning system. We also take care of HVAC systems and energy-efficient equipment. Call us today for more information!
---
At Aircon Mechanical Systems Inc., we offer air conditioning systems for customers in the GTA, Toronto, Ajax, Aurora, Bolton, Brampton, Etobicoke, King City, Nobleton, Markham, Milton, Mississauga, Newmarket, North York, Oakville, Pickering, Richmond Hill, Scarborough, and Vaughan, Ontario.