If you're looking for an experienced HVAC company to handle your commercial air conditioning, look no further.
Whether you're working in an office, a hospital, an elementary school, a restaurant, or a store, you want to feel comfortable both with the atmosphere and the temperature. A broken commercial air conditioning unit can quickly result in an uncomfortable, sweaty, and sticky environment. There's a big difference between 21°C indoors and 26°C outside during the summer here in Newmarket, Ontario.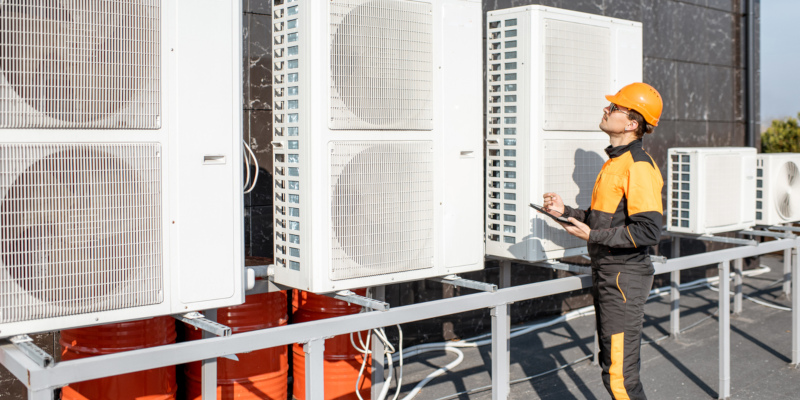 Thankfully, fixing your commercial air conditioning system is just a phone call away when you contact our team at Aircon Mechanical Systems Inc. Our 30+ years of experience have taught us everything there is to know about the different AC systems you can have for your commercial building. You might have a single-split system or want to opt for a multi-split system. There are even VRF and CAV systems to choose from. Whatever type of commercial air conditioning you have, you can rest assured that we can handle any and all of the repairs, maintenance, installations, and replacements you might require.
Our company's primary goal is to provide each and every one of our customers with a pleasant, affordable, optimized, and valued experience. Part of our mission is to provide equipment that can reduce your energy consumption. We also work with new construction and building projects.
If you're looking for an experienced and reliable HVAC company to handle the air conditioning for your commercial building, look no further! We can take care of you, your occupants, and your building with our high-quality work for an affordable cost. Call us today for more information!
---
At Aircon Mechanical Systems Inc., we offer commercial air conditioning services for customers in the GTA, Toronto, Ajax, Aurora, Bolton, Brampton, Etobicoke, King City, Nobleton, Markham, Milton, Mississauga, Newmarket, North York, Oakville, Pickering, Richmond Hill, Scarborough, and Vaughan, Ontario.
Similar Services We Offer: