Better service for your commercial cooling equipment is available through us.
Here in the GTA, Ontario, it is essential to have your building's air conditioner working well and working efficiently, even in the colder months of the year. Any issue with your facility's cooling equipment can lead to a host of problems that put your operations and occupants at risk.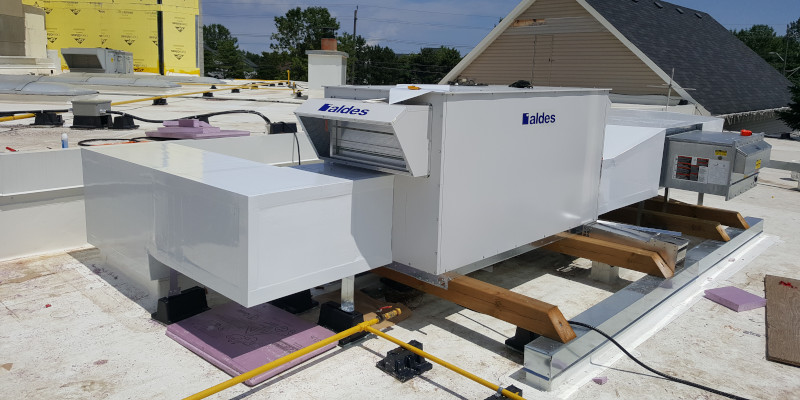 At Aircon Mechanical Systems Inc., we service commercial air conditioning systems at large facilities and campuses, and we know how to employ the right strategies to keep any system up and running. Our services for commercial air conditioning systems include:
Ongoing maintenance—Air conditioning systems require regular maintenance to secure their efficiency and output. We can service your system on an ongoing basis to ensure everything remains in proper condition.
New building projects—We can help you outfit a new facility with an air conditioning system that meets your requirements and local building codes.
Repairs—Whether major or minor, the repair work we do can get your building's air conditioning systems up and running again within a limited timeframe.
Retrofits—Integrate new components into your existing HVAC system by allowing us to retrofit your equipment. This provides a cost-effective way to improve your system without requiring you to replace all of your cooling equipment.
We have over 30 years of experience working on commercial air conditioning systems within large buildings, and we are eager to partner with you for ongoing maintenance, repair work, repairs, or a complete retrofit. For more information about any of these services, get in touch with us today.
---
At Aircon Mechanical Systems Inc., we offer air conditioning systems for customers in the GTA, Toronto, Ajax, Aurora, Bolton, Brampton, Etobicoke, King City, Nobleton, Markham, Milton, Mississauga, Newmarket, North York, Oakville, Pickering, Richmond Hill, Scarborough, and Vaughan, Ontario.