Keep your building's chillers in optimal working condition.
Within any commercial facility, chillers are used to provide proper chilling for a variety of applications. In most cases, commercial chillers are installed on top of buildings, functioning as heat exchangers that rely on water to produce cooler air. When you combine a commercial chiller with cooling towers, these setups can also provide necessary cooling power for bigger areas.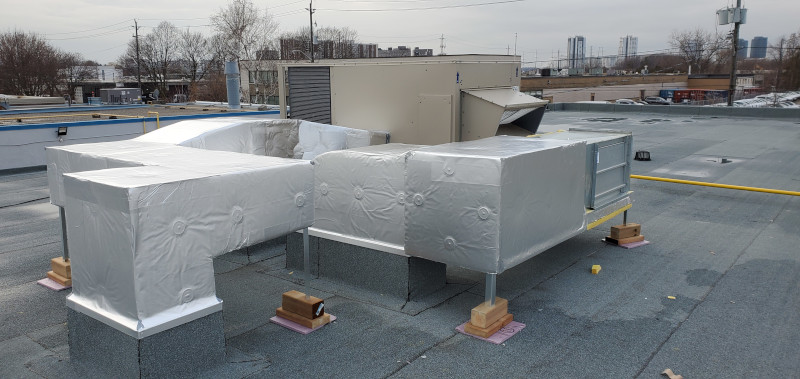 Maintaining commercial chillers is a comprehensive, time-consuming process. You have to make sure your chiller's tubes are clean for efficient heat transfer, treat the condenser water to prevent scale, analyze the chiller's compressor oil, lower the incoming water temperature, and more. And you have to do all of this on a regular basis.
Leave the maintenance of your commercial chillers up to our talented, experienced team at Aircon Mechanical Systems Inc. We serve the Greater Ontario Area, Ontario and have over 30 years of experience working on commercial building equipment, including chillers of nearly every type and size.
In addition to helping you maintain your commercial chillers, we can also help you combat common issues. Whether you are dealing with a high-pressure trip, lower-pressure trip, blown fuse, or any other issue, we can help you restore functionality to your chiller in no time.
As your local commercial chiller contractor, we guarantee reliable solutions, great service, and ongoing oversight of all of your building's equipment. Contact us today to find out more about how we increase the efficiency and effectiveness of commercial chillers with our services.
---
At Aircon Mechanical Systems Inc., we offer commercial chillers for customers in the GTA, Toronto, Ajax, Aurora, Bolton, Brampton, Etobicoke, King City, Nobleton, Markham, Milton, Mississauga, Newmarket, North York, Oakville, Pickering, Richmond Hill, Scarborough, and Vaughan, Ontario.