Take better care of your commercial air conditioning system.
Having a commercial air conditioning system that keeps your building's interior cool, especially during warmer periods of the year, is an absolute necessity. A compromised commercial air conditioning system can create unsafe working conditions for your occupants, leaving your company vulnerable to production issues, lost profits, and legal liability, depending on the condition of your building.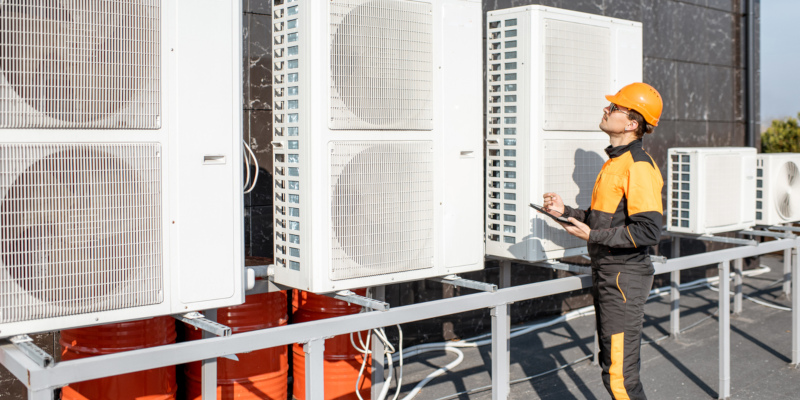 Choose us at Aircon Mechanical Systems Inc. to help with all things related to your commercial air conditioning for better, more reliable results in Etobicoke, Ontario. Our purpose is to help you cut back on your facility's overhead expenses by analyzing the output and efficiency of your commercial air conditioning system and identifying strategies to boost the reliability and output of your equipment.
As a commercial air conditioning contractor, we are equipped to service the often-complex configurations of commercial systems. Your HVAC system likely features multiple units, additional equipment to support the system, and intricate ductwork. Our qualified, experienced technicians are prepared to handle whatever commercial air conditioning requirements you have, whether they include ongoing maintenance, a complete retrofit, major repairs, or anything else.
We promise to always take the best possible approach to all of your commercial air conditioning projects, now and in the future. If you want to know more about what we offer as your HVAC contractor or how we can help you keep your AC system up and running, reach out to us today.
---
At Aircon Mechanical Systems Inc., we offer commercial air conditioning services for customers in the GTA, Toronto, Ajax, Aurora, Bolton, Brampton, Etobicoke, King City, Nobleton, Markham, Milton, Mississauga, Newmarket, North York, Oakville, Pickering, Richmond Hill, Scarborough, and Vaughan, Ontario.