We are highly experienced in using cranes and aerial lifts, allowing us to complete HVAC projects at heights.
Over our more than 30 years in business, our team at Aircon Mechanical Systems Inc. has worked on a wide variety of new construction projects, energy-efficient retrofits, and more. For many of our past projects, we have needed to use cranes and aerial lifts, and if you require these capabilities, we encourage you to turn to our experts.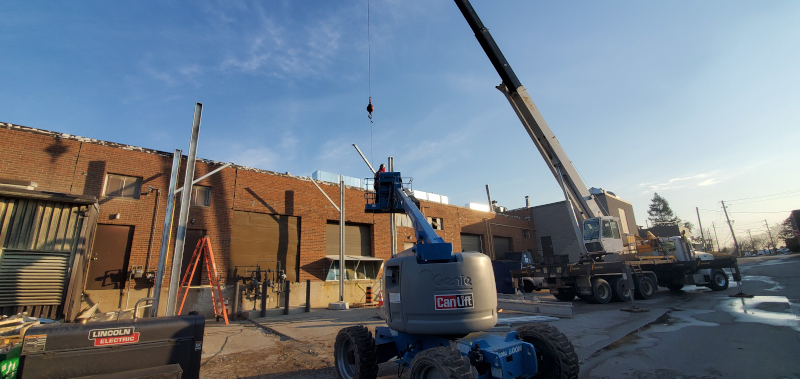 In commercial buildings such as offices, or even in apartment buildings, the HVAC equipment is generally located on the roof. While this makes sense from a design perspective, as it saves valuable floor space in the main structure, it does present a challenge for the construction team—namely, how do you get the heavy air conditioning units, heaters, etc. onto the roof? The answer is by using cranes and aerial lifts. Our team has extensive experience in using these machines to lift HVAC infrastructure components into place, and you can count on us to do the same for your new building.
We are not only highly experienced in operating cranes and aerial lifts, but our technicians are also completely insured—if an accident should occur during the course of our work, our insurance policy will cover the costs, and we will not hold you responsible. In addition, we will secure all the necessary permits, communicate with other businesses around your facility, and clear the way to make sure we can get the equipment in place and complete the work as quickly as possible with minimal inconvenience to anyone.
Our team is proud to serve the community here in Toronto, Ontario, and we want to help you complete your next project. If you need cranes and aerial lifts for your HVAC project, just give us a call to learn how to book out services.
---
At Aircon Mechanical Systems Inc., we use cranes and aerial lifts on projects for customers in the GTA, Toronto, Ajax, Aurora, Bolton, Brampton, Etobicoke, King City, Nobleton, Markham, Milton, Mississauga, Newmarket, North York, Oakville, Pickering, Richmond Hill, Scarborough, and Vaughan, Ontario.