We have the experience you need to retrofit or maintain your commercial heating system.
You wouldn't want to put something as complex as a commercial heating system into the hands of a contractor without the more than 30 years of experience we have at Aircon Mechanical Systems Inc. A commercial HVAC system often has multiple units, additional equipment, and intricate ductwork. Commercial heating systems need regular maintenance to perform reliably and efficiently. Chances are that if you haven't had your system serviced recently, your heating costs are higher than they need to be.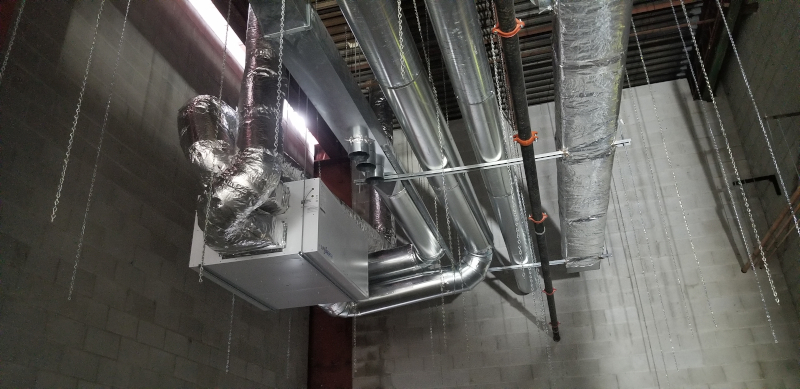 As a full-service commercial heating and cooling contractor, we are also experienced with installing HVAC systems. We have all the necessary equipment, including cranes and aerial lifts, to handle rooftop systems and other new construction challenges, as well as energy-efficient retrofits for existing buildings.
The bottom line is that if your objectives include optimal commercial energy conservation, we are the ones to turn to in Etobicoke, Ontario. We can conduct a commercial energy audit and alert you to improvements that could lower your commercial heating costs, cooling costs, and repair bills, as well as optimize the lifespan of your HVAC equipment.
We are experienced with various types of commercial heating systems, including ramp heating systems, radiant & infrared heating, boilers, and more. We are happy to discuss our ongoing maintenance services, as well as retrofits to lower your heating costs.
Reach out today with any questions you might have or to learn more about our commercial heating services or any of our other HVAC, building automation, or other services.
---
At Aircon Mechanical Systems Inc., we offer commercial heating services for customers in the GTA, Toronto, Ajax, Aurora, Bolton, Brampton, Etobicoke, King City, Nobleton, Markham, Milton, Mississauga, Newmarket, North York, Oakville, Pickering, Richmond Hill, Scarborough, and Vaughan, Ontario.